BitDefender Total Security 2012 has continued to raise the bar to set new standards in proactive threat prevention and virus removal, in many cases leading the way in the best security detection techniques to prevent the proliferation of malicious threats.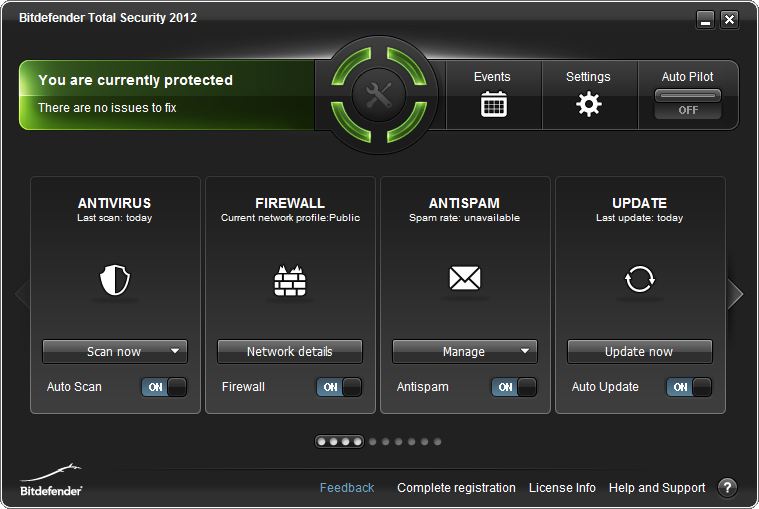 It's a strong program with all the major tools that users expect and some additional useful tricks in its arsenal.
Unlike Norton, new BitDefender sports a dark theme (find here what's new in Norton Internet Security 2012). It has a new big notification status ring at the top of the interface that warns you about your computer security status. The Green color indicates that your computer is secure, Yellow indicates problems that 'require attention', while Red indicates immediate security issues. Its new interface is very close to the old look but is definitely easier to use than the previous version.
Virus detection is one of the most important aspects of robust security suites and BitDefender's protection is superior. BitDefender 2012 includes a competitive selection of tools and options with antivirus and anti-malware engines. This suite has phishing protection, a spam guard, chat encryption, a firewall, a system performance optimizer, file encryption, online backup,
multiple scan levels,
and parental controls
. These features make BitDefender too strong against any threats. Yet the virus protection is not enough to keep your system safe.
BitDefender 2012 also has a new autopilot smart system that sets most notifications to silent and automatically deals with most of the threats encountered without bothering you. It has a new Search Advisor that can show proactive warnings of potentially risky web sites in your Google or Bing search results. The new edition also lets you filter links received on Facebook and Twitter and keep an eye on your privacy settings.
Social network protection, active virus control and unequaled security, make BitDefender 2012 the best protection for your desktop and laptop computers. You can trust it – it is always awake!
See also:
Free antivirus software 2012 Editions: An Overview >>